I have been very lucky to lead the development of a number of national projects, focussed on improving student and staff mental health and wellbeing in universities. Much of the work I've undertaken (see below) has had a significant impact on the sector, delivered beyond initial expectations and all have been on time and to budget.
I am particularly interested in working with universities on projects that help deepen our understanding of student and staff mental health and/or develop resources or interventions to improve wellbeing. I can support projects in a number of ways, from acting as an advisor or critical friend, through to leading the development and implementation of research, analysis, co-creation with students and producing interventions and resources. I am happy to be included at any stage from initial funding bid to reviewing completed work.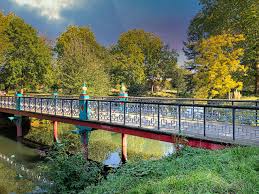 Education for Mental Health
I am leading the development of this £2m OfS funded project to develop guidance for academic staff on producing curriculum that can support wellbeing and learning. This projects includes 5 partners; Aston University, The University of Derby, Kings College London, Student Minds and Advance HE. The project will produce an open access toolkit that will be hosted by Advance HE.
The University Mental Health Charter Award Scheme
Following on from the launch of the University Mental Health Charter framework, we are now developing an award scheme that will be open to all universities in the UK. Initial pilots are taking place at the University of Derby, Glasgow Caledonia University and Hartpury University.
Student Space
Supporting Student Minds in developing a collaborative mental health programme to support students through the unique circumstances created by the coronavirus pandemic. This is a £3m project funded by the Office for Students. I was part of the team that developed the funding bid and am currently supporting the development of the site and the psycho-education element.
The Wellbeing Thesis
Led the development of an online resource for postgraduate research students to support their wellbeing, learning and research. This was an OfS funded project and included 3 partners, University of Derby, King's College London and Student Minds. This resource was developed through a co-creation process with two panels of PGR students. It has been lauded by the UK Council for Graduate Education, Research England and the Office for Students. Since its launch in January it has been accessed by circa 12000 visitors, has been sent to students by Research and Graduate Offices in universities in the UK and received international attention.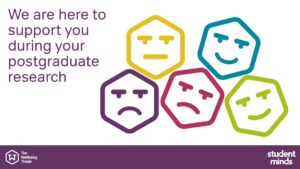 ---
Hughes, G. & Kirkman, A. (2020). Home- The Wellbeing Thesis. [online]. The Wellbeing Thesis.
The University Mental Health Charter
This framework document sets out an evidence informed, whole university approach to mental health and wellbeing. The document was developed through research involving university students, staff, leaders, organisations and topical experts across all 4 UK nations. It provides a structured, practical and theoretically coherent guide to universities to create real, positive and lasting improvement and answered a clear and expressed need. Based across 5 domains and 18 themes, the document is clearly underpinned by evidence and has generated international attention and will feed into the development of a Charter mark scheme for universities, supporting by the Office for Students, National Union of Students, University and Colleges Union, Universities UK and the Department of Education. The document has been formally endorsed by the British Psychological Association.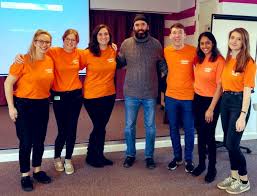 ---
Hughes, G. & Spanner, L. (2019). The University Mental Health Charter. Leeds: Student Minds
Student Mental Health: The Role and Experiences of Academics
To understand more about how academics are managing student mental health, this project interviewed 52 academics at five universities. Participants reported large numbers of students experiencing mental health difficulties. A number of the academics interviewed described experiences of student mental illness that carried high levels of risk and distress. Academics who had worked in the role for many years stressed that they were seeing an increase in the prevalence of mental health difficulties. This report sets out 11 key findings and recommendations to ensure that students and academics are effectively and safely supported.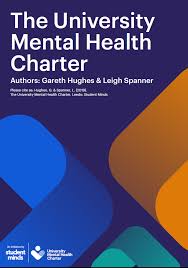 ---
Hughes, G., Panjwani, M., Tulcidas, P., Byrom, N. (2018). Student mental health: The role and responsibilities of academics (Rep). Oxford: Student Minds.